First of all, happy Mother's Day to any mummy readers in the UK. I hope you're having a lovely day with lots of cuddles and cups of tea (the cuddles are the best bit for me, and Little Miss Pink has taken it upon herself to keep 'em coming). How lovely would it be if all those cups of tea arrived in something as pretty as this?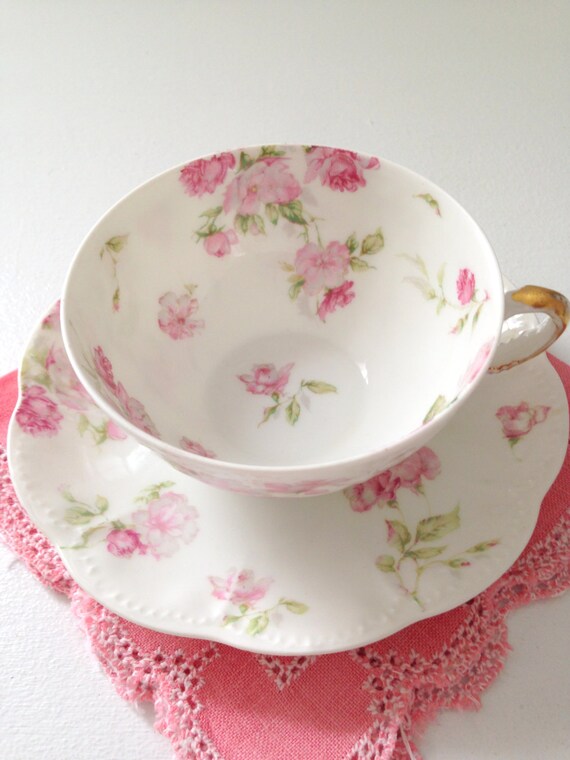 Sadly sold, but MariasFarmhouse has lots
more lovely teacups to choose from.
Doing: This week I've been decluttering. I read about the 40 bags in 40 days challenge, although I've managed to lose the link to the blog I found it on. The idea is that for the 40 days of Lent you remove one bag of clutter each day. I think real devotees focus on specific areas and have checklists and so on. I've just taken the idea and moulded it to suit me, so it's more a motivation to get rid some of the stuff that really I don't need any more, and I can give myself a pat on the back each time something else leaves the house.
Reading: I'm hugely inspired by the Little Pincushion Studio. Annabel Wrigley teaches children to sew and is converting a camper van into a mobile sewing studio. Jealous? Me? Absolutely! I'm wondering how I can persuade Mr V&B that a caravan on the driveway would be the answer to the sewing clutter loveliness that spreads itself, completely unassisted, throughout the house.
Watching: I watched The Great British Sewing Bee final. I love seeing sewing on mainstream television, but it seemed to be a very short series and, watching with the Sewster (she's 12), they seemed to start with more difficult garments than in the past, skipping the more basic stuff that she would have grasped more easily. That said, it has totally inspired her and I need to keep up the decluttering to make room for all the newly sew
n goodness she's creating.
More reading: I picked up a copy of Simply Sewing, the latest sewing magazine here. Sewster and I both liked it enough to subscribe - Oh Boy has a Beano subscription and Little Miss Pink has Toucan boxes, so I was on the lookout for something for Sewster and this is perfect (especially as I can read it too). It has the usual mix of pattern reviews, new fabrics and lots of things to make, from simple bags to a dress by Lauren Guthrie. My only criticism is that they suggest that "Transforming a T-shirt is a great place to start if you're new to dressmaking." They do qualify that with "Jersey fabric can stretch on the machine, so practise on old tops to get the hang of it" but I don't think stretch fabrics are the place to start and it might well be a huge put off for some people. Much better to start with a woven cotton, at least in my humble opinion.
Eating: I tried out a recipe for peanut cookies, made with just peanut butter, honey and an egg, which I found, of course, on Pinterest. I'm not convinced they're the cookies for me, but I'm going to use it as a starting point for a healthier than average cookie. Watch this space. The basic recipe was a cup of peanut butter, 1/3 cup of honey and 1 egg, mixed well and baked by the tablespoon at 180 for 8 minutes.
That was my week. How was yours?